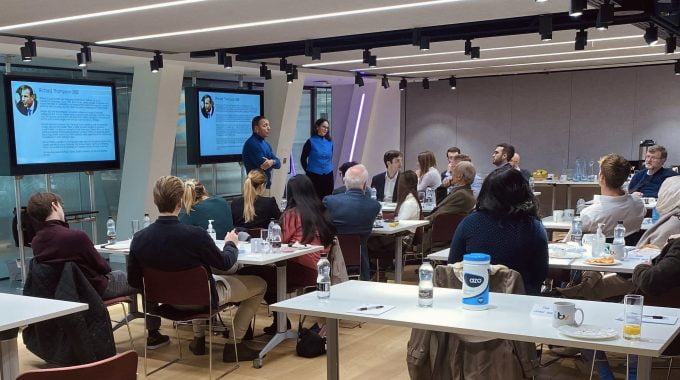 Inaugural Intelligence Seminar
On Saturday 6 November, the Company hosted its inaugural Intelligence Seminar entitled 'The Future of Intelligence & Security'. The event was held at ITV Studios in Waterhouse Square, with thanks to Tom Lapage-Norris. With the help of coffee, tea, and a delicious continental breakfast prepared by ITV's catering and hospitality team, the seminar commenced at 09:30.
The welcome and opening remarks included an overview of the morning's agenda, as well as a brief introduction to the Company for the non-members present. Magda Long was the first to take the stage with a fascinating presentation on her career, her thoughts on the future of intelligence, and the current research she is undertaking as part of her PhD within the War Studies Department at King's College London. Dr Jules Gaspard, a Lecturer in Digital Intelligence at King's College London, followed with an engaging presentation on the intersection of intelligence and digital security, focusing on how individuals can protect their privacy amidst digital surveillance in the era of big data. The third presentation, given by Richard Thompson OBE, provided attendees with an opportunity to learn what a career in intelligence might entail, in both the public and private sectors.
Each of the presentations were followed by a break-out discussion where "pods" tackled questions ranging from "what, precisely, is the future of intelligence" to the "legitimacy of public and private institutions affecting behavior through surveillance and censorship to promote general wellbeing."
Following a Q&A panel, in which attendees were encouraged to ask the speakers questions about their presentations, careers and current research, Victoria McLean of City CV was ready to deliver the day's final presentation: From formatting one's CV in order to beat the algorithms of recruiters' applicant tracking systems, to how to weave a story when describing your roles, to the vital importance of keywords in both your resume and LinkedIn profile – attendees gained invaluable knowledge to aid in their career development.
And, it is of course important to recognise that part of what contributed to the event's success were the attendees – a mix of Members, Young Members, Apprentices, industry professionals, and students – all of whom were professional, engaged, and eager to participate.
The Company thanks Devon Johnson for spearheading this initiative, the speakers for their time, and the Young Members' Group, Ray Williams, and Hollis Johnson who supported Devon with the seminar's organisation and promotion.
We are looking forward to seeing you in early April 2022 for our next Intelligence Seminar on Cybersecurity.
A few words from attendees:
For the first time, I have seen my career in security becoming real. Thanks to Devon and her incredible organization I had the chance to meet amazing speakers, members of the livery and students. The focus on the future of intelligence as well as how to maximize our chances to get a job (thank you Victoria McLean) made this event the perfect place for young people looking for their first experience in security. Looking forward to the next one!

Pauline Haichais, MA Intelligence & International Security, KCL
Thanks to everyone involved in organising the WCoSP intelligence seminar. It was an amazing chance to learn about careers in the industry and to hear about CV writing from Victoria McLean.

Ben Kitchener, Company Apprentice

I really enjoyed the inaugural intelligence and security briefing and appreciated the variety of topics discussed by the fascinating speakers. Not only did it broaden my understanding of the challenges faced within the sector, it enabled some interesting conversations at my table, and later at home! Thank you to all who organised; it was a great event!

Natasha King, Company Member
Thank you to the WCoSP and particularly Devon for putting together this great and timely event. I have exchanged with several security professionals and met fascinating people. The quality of the panel and the relevance of the topics discussed contributed to this event's success!

Alexander Stonor, Security Professional
The WCoSP intelligence seminar was, in a word, fantastic, with its speakers representing decades of knowledge and experience from across the security industry. I could not have hoped for a more captivating and convivial bunch.

Reuben Braden-Bell, Company Member