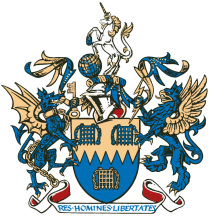 The Worshipful Company of Security Professionals traces its origins back to 1999 when the now Past Masters, Steve Neville OBE and John Purnell GM QPM DL registered The Guild of Security Professionals with the City of London Chamberlain's Office.
On 18 November 1999 twelve Principal Founder Members met to plan the creation of a working guild. The first meeting with sixty-two Founder Members took place on 27 March 2000 with Sir Neil Macfarlane being elected Founder Master and with Sir David Brewer, CMG LL of Greater London and Mr Deputy Philip Willoughby as Sponsors .
Progression to a Company without Livery occurred on 6 January 2004 when the petition for recognition as a City Company without Livery was recognised by the Court of Aldermen. The Company's petition for Livery was recognised by the Court of Alderman on 19 February 2008 when it was declared that the Company had become the 108th Livery Company of the City of London. Between these two events there was a considerable amount of activity to raise £300,000 for the Company's Charitable Trust Fund and £50,000 for the General Fund. Due to the hard work, support and generosity of our Members we exceeded this target. It was also recognised that our aims and objectives were serious and well founded, and that we did not conflict with the interests of existing Companies.
The Worshipful Company of Security Professionals was granted its Royal Charter on 15 February 2010.
The 108th ranking is by Order of Precedence, under which guidelines the Company is also classified as a Modern Livery Company.
Membership of the Company is drawn from the Security Industry in its widest sense and includes leading security professionals from the industrial and retail sectors, serving and retired members of the police and armed services, security consultants, academics, heads of security for corporate businesses, investigators and electronic surveillance practitioners.
What Is A Livery Company?
The livery companies of the City of London, currently 111 in number, comprise London's ancient and modern trade associations and guilds, almost all of which are styled the 'Worshipful Company of…' their respective craft, trade or profession. London's livery companies play a significant part in City life, not least by providing charitable-giving and networking opportunities. Liverymen retain voting rights for the senior civic offices, such as the Lord Mayor, Sheriffs and City of London Corporation, its ancient municipal authority with extensive local government powers.