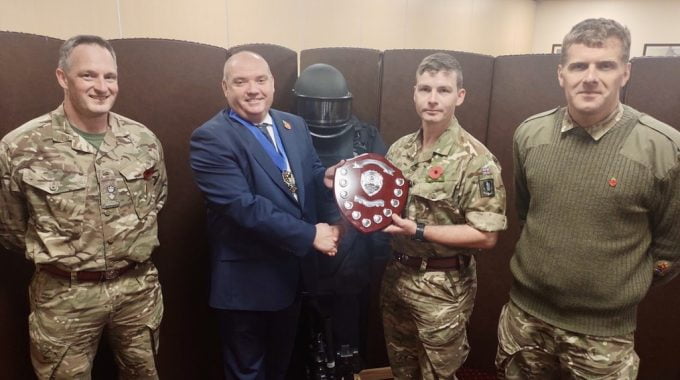 Presentation of Hector's Shield (35 Engineer Regiment)
The Company is very proud to be affiliated with 35 Engineer Regiment (Explosive Ordnance Disposal & Search).
The Master had the privilege of attending Carver Barracks in Saffron Warden to present Hector's Shield to Corporal Marshall. This is an annual award and Corporal Marshall was the inaugural winner.
Captain Joel Solway read out the very impressive citation and the award was presented. Lieutenant Colonel James Cackett Commanding Officer 35 Engineers then hosted all of us to lunch in the Sergeants Mess and interesting conversations flowed throughout the meal. The Master and James Cackett then spent time discussing how the Company and 35 Engineer Regiment can partner closer through the next year and possible mentoring scheme being investigated from these discussions.
The Company looks forward to many years of our successful partnership.