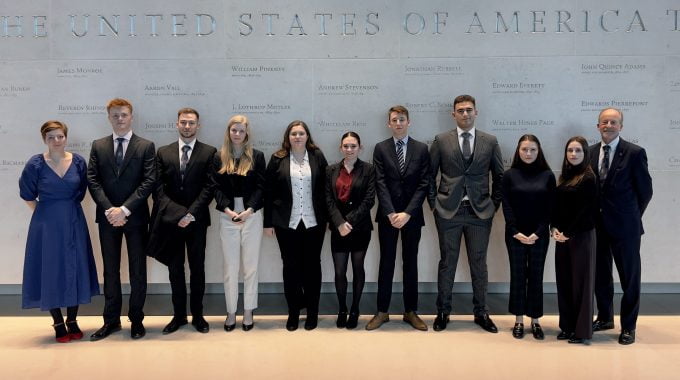 Apprentice Visits to the US Embassy (London)
On two separate occasions in late September and early October, Apprentices and Young Members of the Company were privileged to be given special access to the new Embassy of the United States of America (U.S. Embassy) in Nine Elms. The visit involved a tour and informative talks from a range of speakers based in the Embassy. We are most grateful to IMP Yasmeen Stratton for facilitating the visit.
We were informed that the U.S. Embassy in London is the largest of the U.S. embassies across the world; thereby displaying a clear demonstration of the important and special relationship between the United Kingdom and the United States of America.
Throughout the visits, we received multiple briefs from a whole host of different organisations represented within the Embassy including the Diplomatic Security Service (DSS), Drug Enforcement Agency (DEA), the Federal Bureau of Investigation (FBI), the Department of Homeland Security (DHS), the Internal Revenue Service (IRS), and many more.
After listening to all of the speakers, our hosts split us into smaller groups and we began our tour. During the tour, we went past the medical facility, bar, and numerous U.S. National Park-themed breakout areas and gardens where Embassy staff can enjoy their lunch, and have a reminder of home. We were also fortunate to be able to visit the September 11 (9/11) memorial exhibition, and pay our respects.
We would like to formally record our thanks, gratitude, and appreciation to everyone at the U.S. Embassy for spending their time with us to make our visits so memorable.
George Wells and Jane Gillings, Apprentices to the Company.