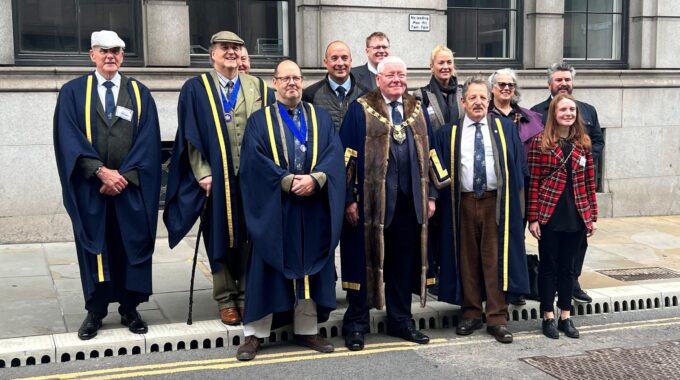 The 'Dippers' Sheep Drive – Southwark Bridge
On Sunday, 24 September 2023 the WCoSP entered a team in the Worshipful Company of Woolmen Charity Sheep Drive on Southwark Bridge. The event is a major fundraiser for the Lord Mayor's charities.
The WCoSP team, nicknamed 'The Dippers', under the direction of the Master Mr Russell Penny, included members of the Services Committee and other WCoSP members. They exercised their right as Freemen to drive sheep across the City boundaries without hindrance or taxation, in this case across Southwark Bridge into the City. The weather was good despite earlier dire warnings which fortunately were fanciful.
After safety briefings, 'The Dippers' were introduced to our sheep, which are trained. This added to the humour as the sheep had a look of disdain of the professional to the obvious amateur i.e. The Dippers team!  Being serious, animals (dogs and sheep) and humans were well supervised by The Woolmen. The flock was 'driven' north and handed over to another team to guide them back. Certificates signed by the Lord Mayor and Master of the Woolmen, were presented. The Wool Fair had an interesting range of products and exhibits. Events included sheep shearing championships and handicrafts such as weaving and crochet.
The event went extremely well; good administration, with plenty of interested visitors. Our thanks to the Master Woolman and the Sheep Drive management team. We are looking forward to the 2024 event.
It may be of interest that 'The Dippers' was adopted as a nickname for the WCoSP Team showing the link between sheep husbandry ('dipping') and the London Underworld jargon for pickpocketing (literally 'dipping' and 'dippers' being the villains); in turn, the Metropolitan Police adopted the name for the specialist squads formed to counter the gangs, which at one stage included the so-called 'Peaky Blinders'.
Malcolm Davidge, WCoSP SC RAF Police POC