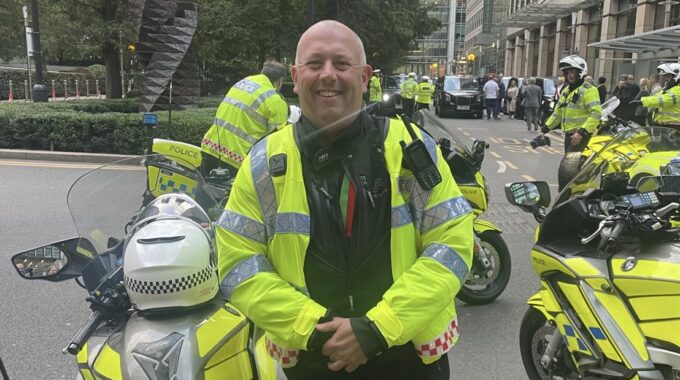 Chief Superintendent Atkin's involvement with the Magical Taxi Tours
Chief Superintendent Atkin on his involvement with the Magical Taxi Tours:
"I had the privilege of attending the weekend in my role as a City of London Police Officer. It was fantastic to see the Master, Clerk and the Chair of the Charitable Trust there. It was very much appreciated.

"I have to say, this weekend was one of the most rewarding and emotional duties I have undertaken. The Hackney Carriages Livery Company did a brilliant job in organising this event.
"We had the breakfast send off at Canary Wharf and we left at around 8am. There were around 120 vehicle in the convoy, including the support. At some points the convoy was 5 miles long so it kept the motorcycles extremely busy to keep it all together. We were joined by the French Police from the start who were great chaps and ensured we did not get lost in France. We finally arrived at Disney at about 9pm.
"On the Saturday, all the children and their families along with the taxi drivers and the other helpers supported the families in taking the children into the parks. The huge number of smiles and enjoyment – I just cannot find words to describe it.
"All of the cases are tragic, I was talking to one family and their son probably had six months to live. The retired police officer who was looking after this young lad and family was absolutely in bits when I spoke to him. again showing the impact and extreme sadness with the children who benefit from this great cause. There was then a lovely dinner which bought all the families together, again great to see lots of smiles.

"On Sunday we had an early start and the children were allowed to sit on the police motorbikes and in the cars whilst stationary. They made lots of noise with sirens which again made some great memories and many smiles.

"The sponsoring of the taxis through our Trust and Company makes a huge difference. This was one of the most impactful duties I have undertaken in the Police."