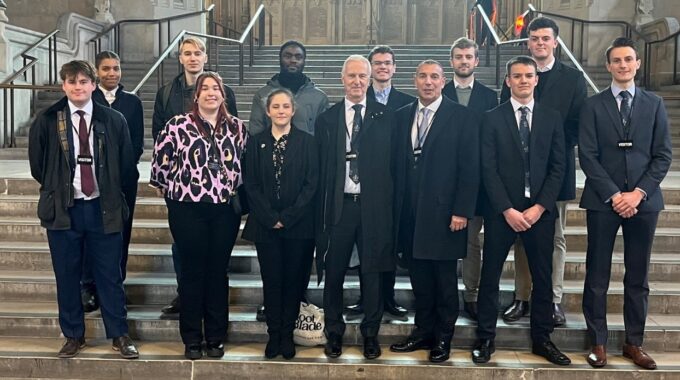 WCoSP Apprentices visit to The Palace of Westminster
On Tuesday 11 April 2023, a group of current and former Apprentices accompanied by The Master Mr Paul Miller, AMG Member Richard Thompson, and AMG Chair Andrew Knights were privileged to have a guided tour of the Palace of Westminster. The visit was coordinated by Apprentice Management Group member Richard Thompson with the groups sponsoring MP being the Rt Hon Johnny Mercer MP, the MP for Plymouth and former British Army officer, who has served as Minister of State for Veterans' Affairs since October 2022, having previously served from July 2022 to September 2022.
The group met Jill, our tour guide, in Westminster Hall which is where the tour started. As well as being used for Heads of State to address both houses, it was also where Her Majesty Queen Elizabeth II laid in state before her funeral.
The tour then went to the Central Lobby, with the four nations being represented above each of the four exits, and with the House of Commons being signified by the green colour and the House of Lords by the red colour.
The tour entered the House of Commons via the Members' Lobby through Churchill's Arch, where the bomb damage and the damage caused by Black Rod banging on the door to gain access can be seen. The next area was the "No Lobby", used when a division or physical vote is taken.
The group them proceeded into the Chamber itself, which was surprisingly small and can in fact only seat around 427 of the 650 Members, which is why for a big debate everyone is so closely packed in.
The Chamber itself is largely unchanged from how it was built, the two most recent changes being the addition of TV and recording facilities, and the bullet proof glass screen between the Visitors' Gallery and the Chamber. The other viewing areas, the Members' area, and the Press Gallery remain open to the Chamber.
The party then proceeded by the "Aye Lobby" to the Upper House via the Prince's Chamber and the Royal Gallery, which are much more ornate and elaborately decorated than the more austere Commons reflecting that the fact that the most recent rebuild took place after the second World War.
The House of Lords is far more ornate, and has the fabulous Monarch's throne at one end. It was noted that the Visitors Gallery remained open to the Chamber.
The next part of the tour was St Stephens Hall and picture gallery, which had originally been St Stephen's Chapel in the time of Henrry VIII and was the original Chamber of the House of Commons. Famously one of the last acts approved in that Chamber, promoted by William Wilberforce was The Abolition of Slavery Act in 1833 as the Chapel was destroyed by fire in 1834.
From here the group returned to Westminster Hall, and the end of a very educational and thoroughly enjoyable tour.